This is one of my favorite recordings of the last 10 years, and it's one of the main reasons why I love Brad Paisley. What other country star releases a mostly instrumental album (Play) at the height of their popularity? This is also one of the only mainstream recordings to feature metal solos on pedal steel guitar *and* violin, and (to my ears at least) the clear influence of the Mega Man 2 soundtrack. (I have no idea if the last one is actually true, but I *do* know that Brad Paisley's latest tour features both clips from Duck Hunt during one song and a fan being invited on stage every night to play Wii onstage during another song.)

Similar to the compositions of Southern Rock pioneer Dickey Betts, Paisley crafts a memorable, multi-part theme that sounds deceptively complex but actually comes straight from the pitches of the standard C# Minor/E Major scale. As for his solos, Brad shows off a unique synthesis of "hot" country playing combined with allusions to 80s shred licks and soaring guitar a la Joe Satriani. I don't think I've heard anything else quite like it since.
Powered by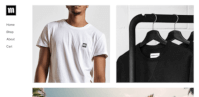 Create your own unique website with customizable templates.