When it comes to learning music, it always helps to look beyond your own instrument for perspective. There may be certain phrasing, scales, or even limitations that are characteristic of particular instruments (example: bagpipes) that sound interesting when applied to a different instrument. Also, a great musician is worth studying regardless of what they play.

Our first case in point: Miles Davis, the hippest man on the planet. Miles was not a virtuoso horn player, especially when compared to contemporaries like Dizzy Gillespie and Charlie Parker. Miles, however, was a master of note choice, phrasing, and space; he only played as many notes as he needed to, and he always made sure that he left enough silence for you to appreciate them. Whatever he played, Miles always sounded like himself, though "sounded like himself" was apt to change on an a yearly basis as he constantly explored new sounds.

When it comes to Miles Davis, the ideal introduction is 1959's Kind of Blue, one of the greatest jazz albums ever made. Start with the groundbreaking opening track, "So What", with a model two-chorus solo by Miles and piano accompaniment by the great Bill Evans.


Powered by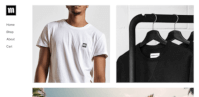 Create your own unique website with customizable templates.