One of the first lessons that students of any instrument (even voice) need to learn is when *not* to practice or perform something as fast as they can.

Performing

This might describe you or someone else that you've heard: you play through a piece that you've spent at least some time practicing. Unfortunately, you have to keep stopping and starting, at times saying "Wait" or "Hold on...." And there's that one section that you botch every time that you play it.

You're probably playing too fast, or at least faster than you're currently able to play this piece. At the right speed, you should be able to play through a piece without missing more than an occasional note. (Be assured: a piece played slowly, well, and expressively will sound much better than the same piece played too fast.) If that still sounds too slow for performance, or you're still stopping and starting, it probably means that you've been practicing it too fast.

Practicing

You can't play something well quickly until you can play it well slowly, and you can't play something well with hands together until you can play it perfectly with hands separated. The more that you practice a piece with unintended stops and mistakes, the more habitual it becomes to perform it that way. Your starting practice tempo should be so slow that you feel completely relaxed and have no fear of making mistakes while playing with one hand alone.

At first, you'll probably still settle on something too fast. I was once told that 60 bpm is a good lower limit, and I think that's generally good advice. I will usually go one step further with material that I'm not used to and practice slowly *without* a metronome for the first day or two until the fingerings and hand motions feel natural.

When practicing new material slowly,

make sure

that you play with relaxation and the minimum amount of motion necessary. When you eventually go to speed things up, any tension or extraneous motion will hold you back and potentially lead to injury if you try to "push" through it. (This is a topic for a post all its own.)

If you practice this way consistently, you should find that your hands get a little bit faster and more coordinated every day. When each hand is playing its part perfectly at or above the final tempo, slow things back down and starting practicing with hands together until you've reached something close to final tempo. By that point, you should have no trouble playing the piece in public without stops or mistakes.

Slow and steady. It works.
Powered by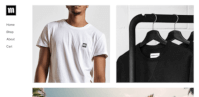 Create your own unique website with customizable templates.