When playing solo piano, it's important to remember that you also have complete control over silence. Sometimes it's tempting to play throughout a whole song, especially if you're playing a busy arrangement that's meant to replicate the sound of a full band. But then you lose the power that comes from a sudden stop, or an unexpected, unaccompanied solo voice. While it may not be as dazzling as keyboard pyrotechnics, strategically placed silence can add that much more emphasis to the sound around it. It also can help to differentiate repeated sections from one another.
Listen to Ben Folds's use of silence in his solo arrangement of "One Angry Dwarf and 200 Solemn Faces." The first verse, portions of the piano solo, and last chorus all stand out due to the use of the techniques mentioned above.

Powered by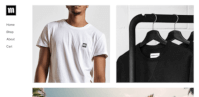 Create your own unique website with customizable templates.