One of the best ways to expand your vocabulary as a musician and improviser is to transcribe and play parts and solos off of your favorite recordings. However, that won't necessarily translate to your own work or teach you *why* the solo works so well. That's where the next step comes in: breaking the music down into "pieces" and figuring out the specific techniques and devices being used so you can apply them later.

Tomorrow, I'll demonstrate this process using a short but classic solo: Steve Walsh's organ solo from "Carry On Wayward Son."


Powered by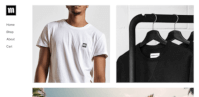 Create your own unique website with customizable templates.