The late keyboardist/singer/composer George Duke gave a workshop on improvisation sometime during the late 1980s that was later released on video. (I will see if I can embed a clip from this in the future as I don't think that one is currently available.) One of the concepts that he introduced within the first 5 minutes was something that I call the "Rule of Three."

The Rule of Three works like this: when you improvise, it's best to repeat ideas (segments of melody) in a deliberate way in order to create interest and tension. Constantly playing new ideas (or just running up and down scales) often sounds like aimless wandering. The exact number of repetitions isn't important, but between 2 and 7 is a good rule of thumb. Three is a good default number because it allows the audience to hear the idea enough times to make an impact but doesn't let ideas overstay their welcome. Once the idea (it can be one or two notes, a pre-composed lick, or a newly improvised melody) has been played a couple times, use the last repetition to link to a new idea. This can be a variation on the last idea, or a completely new one.

This isn't an unbreakable rule. Rigidly repeating everything 3 times would be be boring. The key is to alternate longer, non-repeated ideas for balance. The mix of tightly controlled repetition and more free-form ideas creates a cycle of interest. If you need more options, the use of space (i.e., gaps where you don't play) is always a good idea. George Duke also talked about having a set of pre-prepared "exciting" licks or tricks to get the audience on their feet, build up to a grand finale, or to resuscitate a flagging solo. (Hopefully you won't need the latter.)

1. Play a musical idea.
2. Repeat it a couple times.
3. Add to the first idea, or use it to transition to a new one.
4. Repeat steps 1-3.
5. Use space/silence, non-repeated ideas, and "exciting" licks to break things up.

Powered by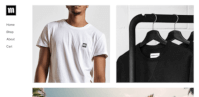 Create your own unique website with customizable templates.