We touched on legendary organist and Stax Records house musician Booker T. Jones in a previous column

(http://http://poppianoacademy.weebly.com/blog/its-about-more-than-speed). I recently read a wonderful quote by him that sheds light on the elusive goal of "finding your own voice/sound."

"You need to have this crazy faith in your own voice coming through. When people know it's me when I'm playing the organ, that's a phenomenon, because I'm basically imitating Jimmy Smith, Ray Charles, and Bill Doggett. In my mind, I'm imitating but to others, it sounds like me."

- Keyboard Magazine

, July 2013.

Many musicians, including myself at one time, worry that imitating other players will result in sounding derivative or like a clone. Here's the reality: the only way that you'll sound like someone other than yourself is if you try to imitate a single player exclusively. Even then, parts of you will still come through, and the imitation will be much less apparent to an average audience compared to what other musicians will be able to hear. Once you introduce a few influences into the mix, they'll express themselves in a way that is unique to your tastes and abilities. It just happens, almost like magic. As Booker T. said, you'll probably still hear the patchwork of influences in your head, but the longer you play and the more players you study, the more it will sound like

you

.

To get started: pick 5 different solos or keyboard parts from 5 different recordings, each featuring a different player. Learn and memorize each one. The next time you have to play a solo or develop a keyboard part, assemble pieces of what you've studies in any manner that sounds appropriate. Repeat with 5 more recordings.
Powered by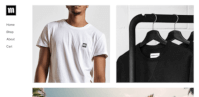 Create your own unique website with customizable templates.